I have a severe love of handbags. Purses.  Clutches. Whatever you want to call them.  I only own seven.  Of the seven, three were free.  I won one of them.  And two of them were left at The Hotel and became mine after they weren't claimed for a billion years.  All of them are either Kate Spade or Coach.  Kate Spade is hands down my favorite purse designer.
So, if Kate Spade is my favorite purse designer, and flamingos are my favorite thing…what in the world do you think would make me the world's happiest purse collector?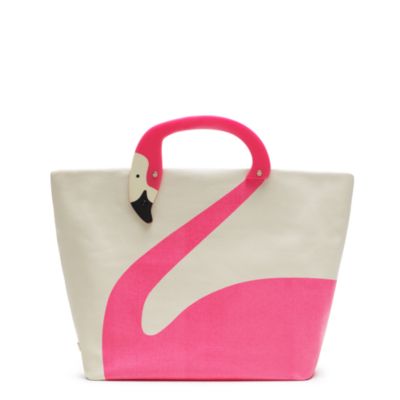 Oh my goodness isn't it perfect?????????????? Lori (of the donated a huge supply of follistim to me fame) posted this on my facebook wall the other day. I spent the entire day staring at it. Then when I got home from work I quizzed Joni and Lyz…Who is my favorite purse designer???? They both answered Kate Spade…I squeeled and showed them the bag!
I am not buying the bag. I am hoping it shows up in one of her trunk shows. There can't be that many flamingo freaks out there!!